Dandelions is very pleased to announce we have won third place in the Waratah Seed Space Qualification Mission! With a launch date confirmed for April 2023, we are looking forward to working with the Waratah Seed Satellite Team to integrate our payload, Dandelions-1 into the satellite.
Seeded in 2020, Dandelions is an innovative aerospace communications company, which is currently pursuing next-generation solutions to many pressing telecommunications problems worldwide with a focus on cheap, reliable communications solutions targeted to emergency management.
Dandelions-1 is the first step in integrating space capability into our existing emergency communications solution stack and we could not be more excited and thankful to the entire space ecosystem which has made Waratah Seed possible.
Woot! We are super excited about this!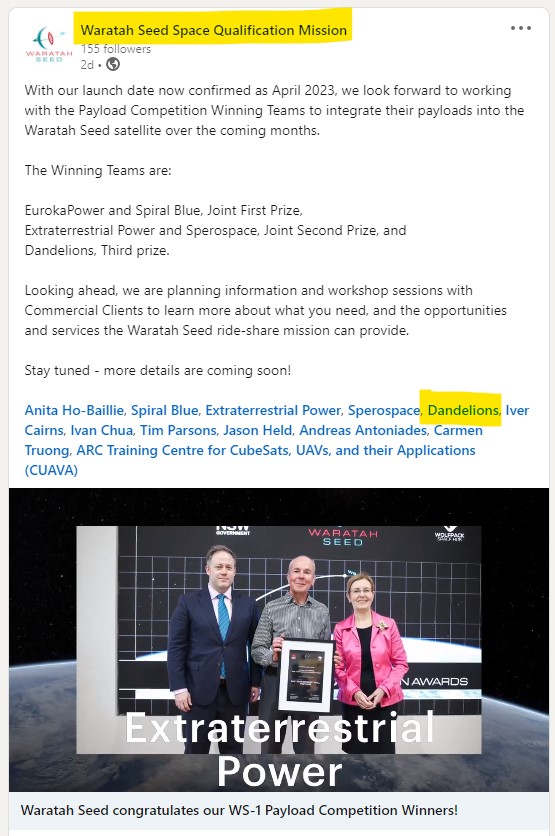 Congratulations
While we have been working really hard to bring our ideas to market, it would be impossible without the support of the space ecosystem here in NSW, and there is a number of people we have to congratulate and thank.
First off, we would like to congratulate the other winners of the Payload Competition, including EurokaPower, Spiral Blue, Extraterrestrial Power and Sperospace. In the past, we have worked with both Spiral Blue and Sperospace - congratulations and we are really happy for you!
Here are some pictures of the event and the video Waratah Seed launched to showcase the Payload Competition.
This is the video from the team at Waratah Seed below.
Thank You For This Amazing Opportunity
We'd like to extend our sincere thanks and gratitude to lots of folks, some of whom are listed below. The list of people we are grateful to is not limited to these folk, but we felt we needed to shout out to them with a special thank you.
Team Waratah Seed, but also the determination of Iver Cairns and Tim Parsons in making this all come together.

Saber Astronautics, with a special shout out to Maria Xygkakis, Andreas Antoniades and Jason Held for believing in us big time. Like, massive big time thank you!

NSSN - Ayu Saraswati, Ivan Chua and Nick Haskins, the entire team at NSSN have been brilliant. Dandelions being able to access critical expertise within the NSW University system simply would not have happened without NSSN.

Investment NSW, whose generosity, faith (and diligence!) allows so many of us across the space ecosystem to pursue our dreams. A special shout out to Gabrielle Upton who is one of the people really driving the STEM renaissance across NSW.
Conclusion
We are really excited about this mission. Read more about the mission here. We think this mission is a fantastic step towards a number of Australian space startups getting their space wings, and our experiments will validate materials via Dandelions-1.
Thank you for your support, and we will definitely have more to say going forward to April 2023!