Wow! 2021 was a hard year, but a very fast-paced year for many of us. 
Working from home is still the norm, and we're trying to cope with constant uncertainty as new virus strains are discovered.
Even with all that has happened, 2021 was a better year because of you.
Yes, you!
Thank you to everyone who has supported us:
NSW Smart Sensing Network - We'd like to extend our thanks to the team at NSSN who backed our vision from day one - you guys have been phenomenal.
University of New Castle and Macquarie University - We are grateful to be collaborating with the University of New Castle and Macquarie University for our work and look forward to sharing our collaborations in the future!
TCG - The team at TCG has been brilliant in support of Dandelions and the space industry in general. A lot of their work behind the scenes is responsible for the emerging space ecosystem in Australia. So, we totally wanted to give them a shout out.
Saber Astronautics - From the top, Jason, Andreas and Maria, you have been amazing. We would not have been able to pull it off without their ongoing support, guidance and (occasional, when needed) arse kicking. It is very much appreciated.
Video Translator - Massive thank you to the team at VT, from conceptualising the sales and marketing outreach to building out the processes and pipeline to helping on the hustle. We were able to end this year on a massive high thanks to the team - it is very much appreciated.
The Dandelions team -  Quoting the words of Dandelions' CEO, Brian Lim, "They reminded me how fortunate I am to have such a great team during these two years of pandemics. You are all extraordinary and I'm so grateful. Thank you for your hard work and dedication throughout 2021."
And last but not least, our followers, readers, and subscribers. You all rock our world!
2021 For Dandelions
This year, our journey was like a roller coaster ride.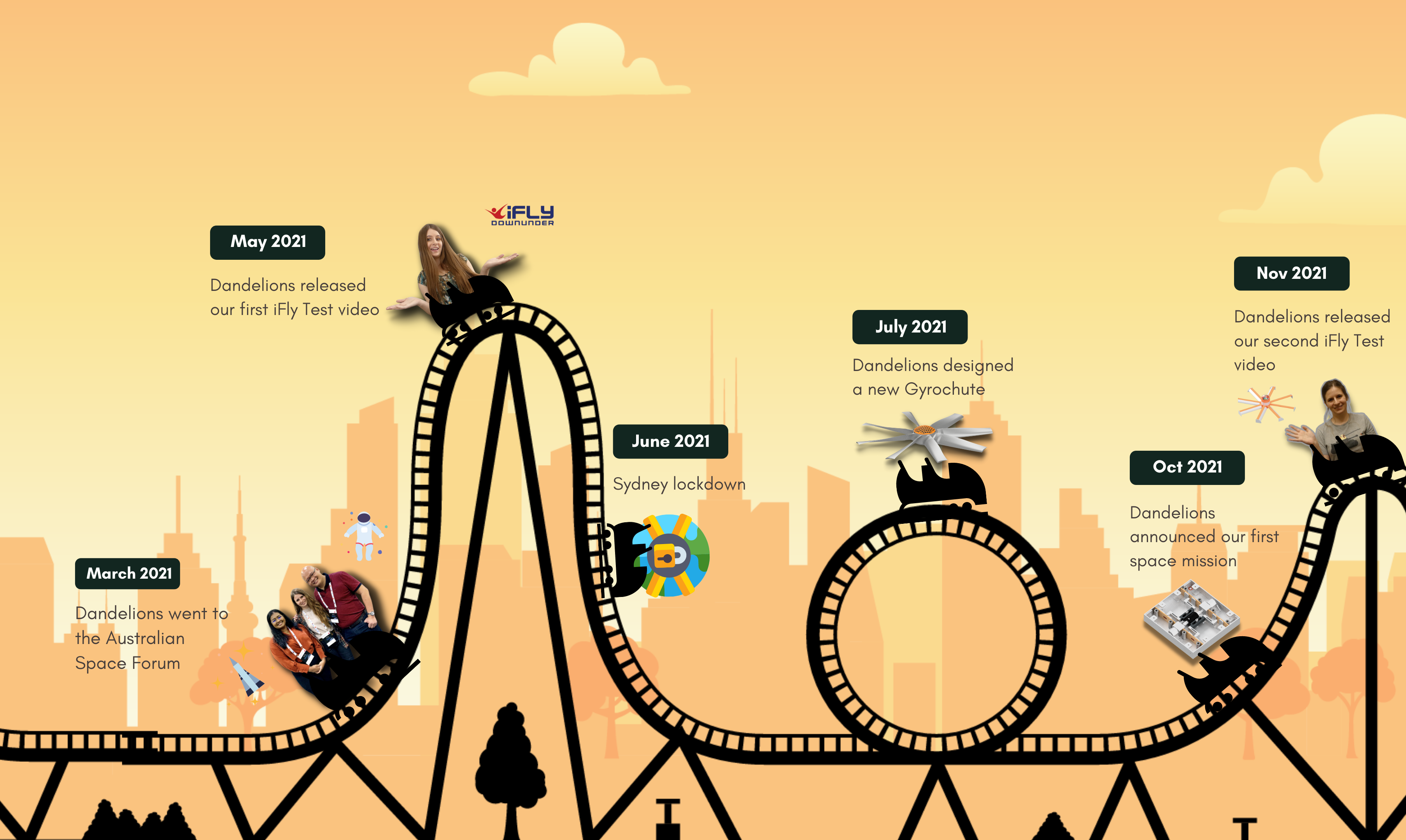 In the same way as a roller coaster ride, the year began with it climbing up. We felt butterflies in our stomachs from the excitement of the year ahead.
We were filled with optimism. The Australian state borders were open and we were exhilarated about the things that we were going to do. 
In March, we visited Adelaide to attend the 11th Australian Space Conference. It was surreal being surrounded by professionals in the same industry. There, we formed friendships with many interesting people. Most importantly, our team bonded really well during the trip. 
In May, we visited iFly Down Under, an indoor skydiving facility that uses a vertical wind tunnel, to test the new airframe of our Gyrochute. It was really interesting to see how our Gyrochute would react in a free-fall environment. Although the test did not go very well, we were able to gather a lot of important information.
As we said earlier, our journey this year was like a roller coaster ride. Just as we were getting the highs from the conference and the iFly test, Sydney lockdown happened. We were planning to do another test at iFly the month after, but our plan was cancelled. 
And our ride went down real quick. So quick that we did not anticipate working from home over the next three months. Some of us were stuck in LGAs of concern and couldn't even leave the area.
Thankfully, in light of the rising vaccination rates, we were slowly enjoying more freedom. Our ride was slowly going back up again.
In October, Dandelions was pleased to announce our very first space mission. This mission is the first step towards providing an on-demand infrastructure solution for stakeholders who need space-deployed sensor grids.
And, after months of waiting, we had finally managed to do another iFly test. This time, we were able to see the Gyrochute rise!
To put the cherry on top, Dandelions became one of the winners of the Waratah Seed competition, an NSW Government funded satellite, to provide space-related businesses with the opportunity to test their products in orbit!
Your support throughout 2021 has enabled us to achieve all this, and we could not have done it without your support and generosity.
That's a wrap to 2021. We wish you all the best in the coming year. We hope that we can continue to walk together and achieve more extraordinary things. 
For the coming year, we expect to bring you even more exciting technology and developments.
Finally, for those of you who celebrate Christmas, we wish you a Merry Christmas, and to everyone a Happy New Year! 
That's it from us this year. See you in 2022!
From the Dandelions Team